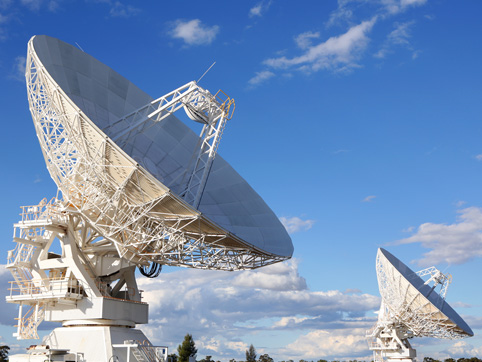 Innovating to support the industry needs
Telstra is uniquely positioned to distribute linear channels around the globe on leading subsea and terrestrial networks with assured availability.
Our Next Generation Linear Distribution mixes delivery platforms including fibre, satellite, and IP to deliver content from various delivery standards to audiences worldwide.
Integrated media fibre networks, satellite capabilities, cloud connectivity and partnerships as a simple and flexible method for live, linear and file based delivery for permanent and occasional use services.
Telstra owns and has vested interest in subsea fibre network throughout the Pacific, Indian and Atlantic Oceans.
Telstra owns and operates teleports strategically positioned to access geostationary satellites (35,000 kms above earth) that reach the entire earth's surface.
Global Broadcast Operations support
Broadcast experts on the ground, in Master Control Rooms and Broadcast Operation Centres across the globe to manage and monitor delivery to meet SLAs.
Connecting global content owners and platform providers
Content converges to reach new markets with Telstra's networks that reach into major global content owners, platform providers, and media hubs.
Customisable network that innovates
Telstra customises its global media and telco networks such as fibre, satellite, internet as well as advanced to incorporate future networks.
Tiered SLA to scale requirements
Scalable service assurance and management to meet affiliate Service-Level Agreements.
Specification compliance
Regardless of video format or delivery compliance, technical assessment is delivered to standards that meet SLA requirements.
Making new broadcast ideas reality
We continually invest in our networks, platforms and people, and our partnerships with customers, to turn ideas into new broadcast solutions.
Proven capabilities in remote production
Proven capabilities
As the chosen partner of the world's leading broadcasters, Telstra Broadcast Operations delivers millions of hours of content a year to viewers all over the world.
Expertise to match your business needs
Draw on the experience of our global experts and business partners who can help you build complete, integrated solutions, whatever your requirements.