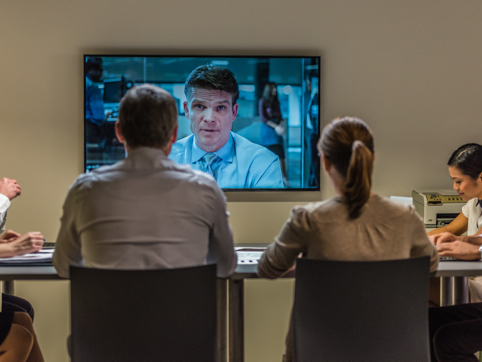 Today, teams are increasingly dispersed. You need a more open environment across locations and devices, where collaboration occurs in the moment and integrates with workflows. Speed up projects with a single virtual place to meet, share ideas and unify workflows across the globe through Cisco Webex Teams, an all-in-one business collaboration and conferencing app.
With the Cisco Webex Teams app, there's no need for costly equipment, dedicated networks, or IT teams to manage infrastructure. It's that simple.
Cisco® Collaboration Cloud
Webex Teams services are hosted securely in the Cisco cloud while media and key management servers are in the Telstra cloud. This provides a high-quality audio and video while providing in-country key management services.
Easy access mobile and desktop client
The Cisco Webex Teams app works with your Cisco desk phone so you can easily switch between them, all with the same simple interface across a range of compatible devices.
Cisco Hosted Collaboration Solution and Jabber
Integrated via the Cisco Collaboration Cloud and our secure global data networks, we offer a full suite of rich voice, video, presence, and IP communications tools across multiple devices.
Meet, screen share and use digital white boarding with teams wherever they are, with this multi touch-based, big 4K screen device.
Cisco Webex Teams Meeting Rooms
Our solution offers video-enable meeting areas with a monitor or display and a Webex Teams-registered end point. Escalate to physical meetings in a flash and use your mobile as the room remote via the app.
Connect Cisco Webex Teams to almost any tool, or do custom integrations with Cisco Webex Teams APIs at the Cisco Webex Teams for Developers portal.
Never miss a message
Simply keep track of your conversations with messages saved in the same spaces where you meet. You can send important information via direct and team messages, which can be read and responded to right away - or flagged for follow up later.
Make quicker decisions
Webex Teams comes with a one-button-to-touch joining experience and a no host policy, so meetings are ready when you are – across a range of devices.
Connect globally and externally
Securely work together across multiple locations with a consistent internal and external stakeholder experience.
Create work that flows
Create continuous workflows across devices before, during and after your meeting, enhanced by integrating the tools you already use.
Stay secure
Your messages, files and whiteboard drawings are fully encrypted with the assurance of Single Sign-On and end-to-end data encryption.
Unify collaboration on one app
Integrate voice calling with messaging and meetings.
How it works
The core Cisco Hosted Collaboration Solution (HCS) integrates Jabber, Cisco Webex Teams, Webex Meetings, Cisco Webex Hybrid Services and Cloud Connected Audio Service Provider. Underpinned by our global IP and SIP Connect networks with functionality natively integrated into our networks, the solution gives you a consistent, high-quality experience.
The unified, integrated solution provides presence, instant and persistent messaging, content sharing, calling, video conferencing and advanced meeting experiences.
Cisco - Collaboration Summit Awards
Best Meetings (Video & Conferencing) / 2018
Cisco - Partner Summit Awards
Architectural Excellence Partner of the Year / 2018
Frost and Sullivan - Asia Pacific ICT Awards
UC-as-a-Service Total Solution Provider of the Year / 2018
Cisco alliance puts you ahead
Our strategic alliance with Cisco enables you to access ground-breaking global technologies designed for peak performance on our networks.
Experience you can depend on
We have vast experience in successfully delivering cloud collaboration solutions, with over 270,000 endpoints deployed in the last 10 years. We know what's coming next and can best position you for success.
A better mobile experience
The Telstra Mobile Network is Australia's largest and fastest mobile network. Our network strength helps you take full advantage of Cisco Webex Teams mobile collaboration capabilities in more places.