The modern workplaces of today are already filled with a wide range of tools that help teams collaborate seamlessly, whether that's in the office or with a colleague who's miles away. How will 5G take it up one notch?  
From online collaboration platforms like Microsoft Teams, to video meeting software by Cisco or enterprise instant messaging softwares like Slack, there's a proliferation of new tools that help drive greater teamwork, more intelligent ways of working and individual productivity.

Our workplaces are more connected than ever as employees use these tools in addition to intensive enterprise cloud applications and storage (e.g. Microsoft OneDrive, Google Suite) to work extremely large amounts of data.
In fact, business IP traffic in Australia is expected to grow three-fold from 2017 – 2022 at an annual compound growth rate of 24%.[1]
Business mobile data traffic will grow five-fold in that same time as consumer communication habits continue to flow into how we prefer to communicate at work.[2]
With 5G launched in Australia and the first 5G devices already hitting market, we look at how 5G could further elevate the work experience in the office of the future.
Next-level employee flexibility
With 5G promising to deliver great speeds, the impacts on employee flexibility in or out of the office will be exciting.
Sure, for organisations that have already implemented substantial Wi-Fi solutions, workers already have the freedom to find the right office nook for the right type of work. But with 5G, there'll be even greater flexibility.
For instance, in the future if all employee laptops have SIM cards that run off 5G, teams can move between building floors without the issue of Wi-Fi dropouts[3]. You could take that laptop and work while in transit (in selected 5G areas) – using the same 5G connectivity from their work-issued laptop to securely access enterprise cloud applications and files.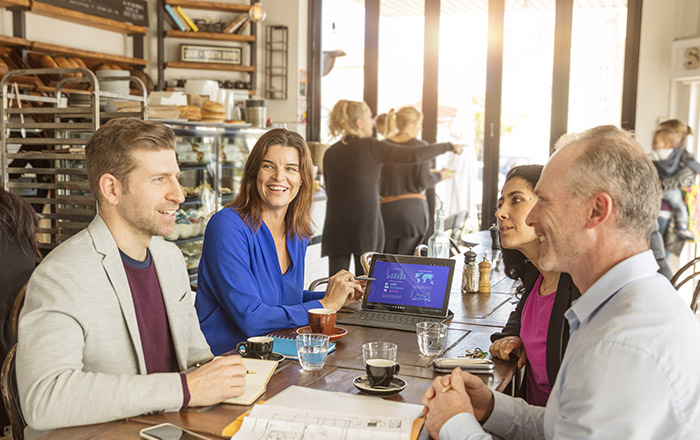 More nimble, less infrastructure
Overall IT spending in Australia is forecast to total $93b in 2019 at 3.5% growth rate[4]. Importantly, CIOs are still allocating the majority of their technology budgets to support core business operations (57%)[5].
As enterprises continue to look to shift capital expenditure for commoditised technologies / hardware technologies that advance digital business (e.g. cloud, security, analytics), there are opportunities to see where savings can be made in core IT end user infrastructures.
With the dawn of 5G, there's potential for organisations to think about how they can simplify and reduce on-premise hardware and virtualise network functions. For instance, there are savings that can be made when we start rethinking how we could minimise cables and cabling needs traditionally required to deliver high-speed fixed connectivity to every workstation.
At Telstra, we're already on the frontline of exploring how 5G edge computing could be used in business to reduce network infrastructure through our collaboration with the Commonwealth Bank of Australia and Ericsson.  By creating, collecting, analysing and processing data on the edge of the network (i.e. close to the source of the data) rather than at centralised locations (e.g. the cloud at data centres), there's potential to conserve bandwidth within the network, reduce the time it takes for the data to be sent between the two points and provide additional security for transactions.
With a device like the new HTC 5G Hub and other enterprise-grade devices coming into the market, businesses will also get to enjoy mobility freedom where small offices, mobile branches, pop-up retail stores and the like can be set up by simply popping one on – a number of users can quickly share high-speed 5G connectivity.
Safer ways for teams to get work done
According to the Telstra Security Report 2019, 65% of Australian businesses were interrupted due to a breach last year, with 89% saying they have had breaches go undetected[6]. More alarmingly, for Australian businesses that have experienced a breach, 36% reported weekly or monthly events due to the 'accidental insider'.
That's typically the benign employee who leaks data outside the company or exposes corporate data due to a negligent act or human error, sometimes due to having to use 'workarounds' to get their job done. A great example is how people who are travelling for work often have to use public Wi-Fi to get work done on the go.
With the proliferation of mobile devices and companies increasingly having BYOD policies, 5G could help close down this potential security loophole where all devices (including the work laptop) can use the same access and authentication controls.
Unleash 5G for team collaboration
5G will be more than just about step changes in speed, latency or capacity. It's the combined capabilities of 5G together with a lot of emerging technologies for enterprises that will spark the next revolution in mobility.
For example, software-defined networking and network function virtualisation that elevate network agility, security and resiliency. IoT applications for mass industrial automations. Or edge computing that could reduce bandwidth and speed up processing. These could all be enabled or further taken up a notch with 5G.
Learn more about 5G use cases and Telstra's 5G leadership here.