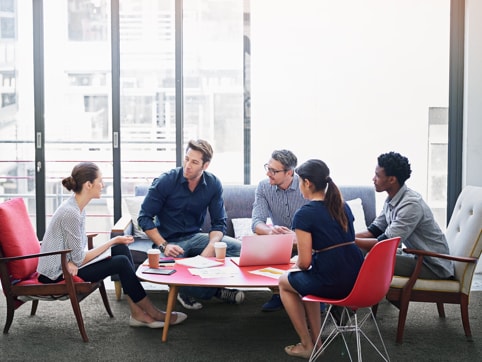 Telstra Collaboration solutions inspire brilliant teamwork
We do our best work as part of a team, but the best teams aren't always in the same place. Sometimes you need the right tools to unite your people and deliver spectacular results.
Our experts can get the most out of your people by using virtual meetings and intuitive tools that allow you to work from anywhere.
Whether on-premise or in the cloud, we can help you define the right strategy to spark a culture of collaboration and a thriving team.
Explore Telstra Collaboration Solutions
Telstra Calling for Microsoft Teams
With Telstra Calling for Microsoft Teams, simplify your business calling with a single number, and enjoy clearer voice calling delivered over one of the leading networks in Asia Pacific.
Find out more
A suite of leading technology, in one place
Transform your people and workplace with a full suite of integrated collaboration, cloud and connectivity solutions from our experts and leading technology vendors.
Keep up with the latest innovation
Our accredited team and award-winning industry partners invest in innovation to make sure you benefit from the latest thinking.
Extensive, fast and reliable network
Connect to new opportunities around the world with a subsea cable network that reaches more than 400,000km - enough to circle the world almost 10 times. You can access more than 2,000 PoPs and connectivity in more than 200 countries and territories globally, on a network consistently ranked amongst Asia's most peered IP networks by Dyn's Internet Intelligence.
End-to-end view for better performance
As a network operator and services provider, we can give you more visibility of your IT systems and structures. We can also make managing your IT simpler by offering technology and service as a complete, integrated solution with one port of call for support.