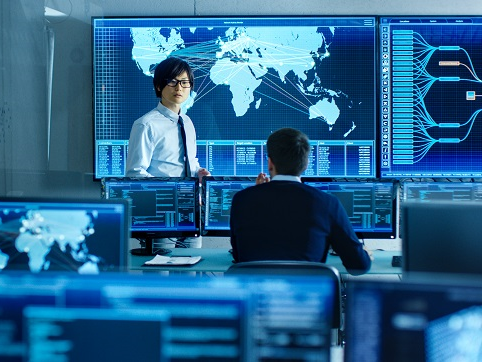 Let the Telstra Global Media Network connect you to major global markets and rights-holders. This purpose-built video contribution and distribution network supports permanent and occasional use services for point-to-point and point-to-multipoint on a consumptive-based business model across traditional broadcast, IP video standards and cloud connectivity.​ 
Telstra owns and has vested interest in the largest subsea fibre network throughout the Pacific, Indian and Atlantic Oceans – spanning over 400,000 kms (250,000 miles).
Create data channels that allow a point-to-point data link between a media company HQ and a remote event or location.
Expansive satellite network
Get access to over 60 satellites via our own teleport facilities in Australia and Asia, as well as partner teleports in Europe and USA.
The Telstra Global Media Network Partner Alliance has 19 partner networks and growing in Asia Pacific, the Americas and Europe. Together we have 2,500 on-network (OnNet) endpoints around the world, including 1,000+ customer sites and points of presence and 1,500+ venues and stadiums.
Scale your content delivery performance over cloud infrastructure and contented networks with direct connectivity into off-network rights-holders via internet delivery.
Finance simplified
Minimise vendors with one end-to-end service accessing multiple networks from quote, through to provisions and billing. 
Multi-tiered content
Rights-holders can access multi-tiered global sport, news and entertainment content on and off-network.
Advanced network
Network technology continuously advancing to exceed video standards and business needs. 
Hybrid network of networks
Combine the best features and benefits from fibre, satellite, IP and data into one ​ cost-effective solution. 
Scalable premium SLA
Tiered support, monitoring and management from broadcast engineers in all time zones to meet SLA requirements.
Proven capabilities
As the chosen partner of the world's leading broadcasters, Telstra Broadcast Operations delivers millions of hours of content a year to viewers all over the world.
Proven capabilities in remote production
Making new broadcast ideas reality
We continually invest in our networks, platforms and people, and our partnerships with customers, to turn ideas into new broadcast solutions.
Expertise to match your business needs
Draw on the experience of our global experts and business partners who can help you build complete, integrated solutions, whatever your requirements.
Get started with Global Media Network
Register your interest and one of our solution experts will call you back.
Request a call back